Let me help you clear the clutter from your schedule, space and mind! Just as I did for Jack, I can teach you how to:
Stay focused on what's most important, at home and at work.
Find anything you file or store within 5 seconds.
Eliminate thoughts, activities, relationships, and things in your environment that do not enhance your work or personal life.
Remember important follow-up at the right time.
Enjoy a life of purpose, passion, and fun!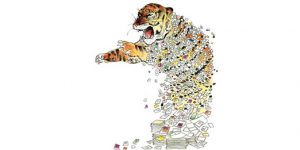 Most individuals waste at least 150 hours a year looking for information. At an average rate of $25/hour (including salary + benefits), that equates to nearly $4,000 per year per employee. Multiply $4,000 times the number of employees in a company, and the cost in lost productivity is staggering.
To calculate the cost of disorganization for you and your company, click here.
For more than two decades I have used a system that enables me — and others in my home or office — to find ANYTHING we file or store in 5 seconds or less, whether that be in the form of paper or something else.
Most filing or storage systems break down over time, but this finding system has stood the test of time! Since 1996, I have implemented The Paper Tiger for hundreds of happy clients and work groups throughout North America… including Jack Canfield!