Declutter Your Schedule, Space and Mind So You Can Focus On What's Most Important!
During the webinar you'll:
Discover what mental challenges come up when you're clearing piles.
Find out what you need to do BEFORE organizing your physical environment!
Learn what clutter is and what it does to you emotionally and creatively.
Discover the two primary reasons people 'pile,' and what to do to prevent it!
Plus, a LOT more!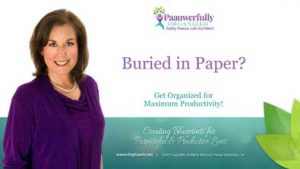 Presented by
Kathy Paauw
Imagine knowing what to do with every single piece of paper or information that comes into your busy life, so you no longer feel a need to create piles of delayed decisions!  I've taught this popular webinar to hundreds of people since 2003, and I look forward to sharing tips with you.
I'm Kathy Paauw, a Certified Professional Coach and Productivity Consultant. I help busy self-employed and independent professionals like you to overcome overwhelm by helping you de-clutter your schedule, space, and mind so you can focus on what matters most.
If you register and cannot attend, no worries! We'll send you a full recording the next day.