Everyone I talk with these days wants to save money. The ability to earn, save and invest money is a core part of our day-to-day lives.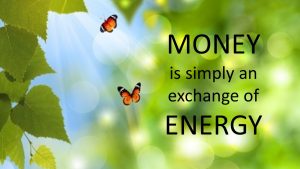 I think of money as an exchange of energy, since energy is required to generate the products or services that are sold or bartered.
When you reach retirement age, your energy will most likely not be available at the same level it was when you were young and just beginning your work life. If you want to maintain your standard of living into your retirement years, you must plan ahead.
A good financial guide is to have the equivalent of your annual salary saved and invested by age 30 and to have 10 times your final salary invested in savings so you can comfortably retire by the age of 67. While this sounds daunting, if you begin putting your money to work starting in your twenties, the combined effect of compound interest and all those years of savings makes it possible even for someone earning minimum wage to have saved over $1 million by the age of retirement.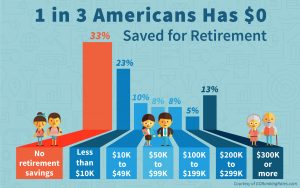 I often hear people say that they want to save more, but they just cannot afford to. My response…you can't afford NOT to save now for your future! 
You work hard to earn your money. Unfortunately, it's far too easy to mindlessly spend and waste it, whether it's paying a late fee or blowing your budget on impulse shopping.
A good habit to develop –starting today — is to take a more mindful approach to spending so you can afford to set some earned income aside, and to have a solid plan in place for saving monthly so you can live comfortably when you retire. I've compiled the list below to help you with that.
101 Ways to Save Money
Go out for an early meal during "happy hour" and save. Many bars and eateries offer nice discounts on appetizers and some other menu items during happy hour on weekdays.
Before dining out, look for discount coupons at Restaurant.com. A coupon that costs $10 could be worth $25 off your bill.
Save money on restaurants, shopping, and tours with online and printable coupons plus cash-back deals with BeFrugal.com.
Dine at a culinary school if you like sophisticated fare. Students operate restaurants where the food is comparable to top eateries, but at much lower prices.
Kids eat free! Lots of restaurants, such as Chili's and the Rainforest Cafe, let kids eat for free or at a discounted rate on certain days. Check out  Grandparents.com for a list of places.
Celebrate your birthday with free eats. The website Thrillist.com has a list of 75 major food chains that offer free items on your special day.
Don't get stuck picking up the tab. When friends are short of cash, free payment services such as Square Cash,  Google Wallet, or Venmo will allow them to move money on the spot from their account to yours.
Go for cash back instead of points and miles rewards. Credit card companies can suddenly increase the number of points and miles you need to redeem travel benefits and other perks. Cash doesn't lose value even if a company changes its policies.
Use gas advantage programs. Many grocery chains let you earn discounts at select gas stations when you shop at their chain. That savings can add up!
Use the mobile app GasBuddy to find the cheapest gas in the area. According to GasBuddy, Monday is the cheapest day to buy gas and Thursdays are the most expensive day. Yes, gas prices do change daily!
Keep your tires inflated. For every 5-psi of air pressure below normal, you lose 2% on gas mileage. For a typical car, under-inflated tires can waste a gallon of gas a month, plus you'll have extra wear on your tires. Be sure you also have the tread depth checked annually. New tires have 10/32″ of original tread depth. Once they've reached 2/32″ in remaining tread depth, the tires are worn out and must be replaced before they blow out. Always have the tread depth checked before going on a road trip. If you need to buy new tires, read all the line items on the invoice before you pay. I recently bought new tires and they added a $60 "road hazard protection" that I did not ask for. When I caught them including this "upsell" on my invoice, they took it off.
Chill out when you are driving. Hard-braking and speeding can reduce your gas mileage by 30-40%.
Budget better. Free online tools like Mint and Level Money help you better track your spending, save money and figure out where you can make cuts. And here's a tip for saving on interest charges with your credit card balance. Since credit cards charge interest daily, make half of your regular payment twice each month instead of a full payment once a month.
Never buy a thumb drive again. Dropbox is a free service that gives you online storage to share files and sync your files online.
Extend the life of your smartphone or tablet battery. Protect your device from temperatures above 95 degrees, which can damage battery capacity; shut down location-tracking apps when not using them, and turn off the function that refreshes apps in the background.
Manage your cell phone bill. Review it to make sure you are not paying for data or services that you don't need. If you don't send many texts, you don't need unlimited texting. Or you might be able to get by with 2GB of data per month, instead of 5GB.  MyRatePlan.com can help you compare plans.
Avoid using your phone to play games or stream music and movies if you're on a limited data plan. Those activities are data hogs that can quickly trigger charges. My Data Manager, a free app, can identify which of your actions eat up most data and alert you when you're near the limit.
Don't dump that old iPhone. Sell it. First-generation iPhones that sold for $599 in 2007 are now collectibles and, if in mint condition, worth big bucks. The recent asking price on eBay for an 8GB iPhone in its original packaging was $10,000.
Get rid of Cable TV and use a digital antenna for TV and Roku–a streaming TV and media player–to get free channels and watch movies on the Internet, Netflix and Hulu.
Routinely call your cable company, internet provider, or TV service to see what they'll do to keep you loyal. Some will renegotiate your monthly service or offer you something free to keep your business.
Get reimbursed for ATM fees. Most online banks and some traditional banks will reimburse you for fees incurred when you use another bank's ATM…but you have to ask.
Buy discounted gift cards for expenses. These discounted cards are available at sites such as GiftCardGranny.com and TheGiftCardShop.com, with special discounts available to AARP members.
Buy bulk movie tickets if you go to movie theaters regularly. You can get 10 movie tickets from Costco.com for $91.98. That's well below the price of admission at an AMC theater.
Save on shaving supplies. Join a shave club at sites such as DollarShaveClub or Harry's and have quality blades and shave supplies delivered to your doorstep for less than you now spend at the store. Ladies, buy men's shaving cream. It usually costs less and does the job!
Buy dryer balls instead of using fabric softener. Dryer balls reduce wrinkles and static without the extra cost of chemicals.
Buy clothing in January. Post-holidays, retailers slash prices on clothing by up to 50% to make room for warmer-weather clothing. Buy suits, sweaters and winter coats this month.
Buy luggage in March. Travel retailers know we gear up for spring and summer vacations in March, so they often discount prices then.
Buy sneakers in November. Retailers devote more shelf space to sneakers in early fall, for back to school, then cut prices in November to make way for winter boots.
Flash sale sites, including JackThreads and Rue La La, offer everything from suits to designer sunglasses for as little as half the retail price.

Rent designer-label clothing, including formal wedding attire, at a fraction of the retail price at RentTheRunway.com.
Buy, sell or swap clothing and accessories and save money. Check out SwapStyle and RehashClothes. If you are obsessed with a specific pricey clothing brand, go to PoshMark.com to find top-grade second-hand clothing.
Free shopping apps. Let AppCrawlr, an app search engine, help you find the best apps and free online shopping sites with flash sales, such as HauteLook and MyHabit.
Search and save. ShopStyle is a search engine that filters the Web for the best prices on whatever you need. The Hunt is like having a personal shopper. You post a picture of what you're looking for and it tells you where to find it — or something similar for less money. Honey is a free extension you add to your web browser. When you shop online, click on the icon and it searches for coupons and lower prices.
Seek generic or store brands. Brand-name products for 16 common grocery items cost $56.24, as compared to a cost of $41.51 for the comparable store brand of the same item. That's a saving of $14.73. Sometimes both brands are manufactured by the same parent company.
Avoid impulse purchases at the grocery store with Grocery iQ. You can create a shopping list on your desktop and use it in the store.
Forget coupons. Unless they're for items you really use, coupons are often just a marketing strategy to get you to try new and unnecessary products. Only use coupons for items already on your list.
Prolong the life of your fruits and veggies. Wrap them with a paper towel and put them into an airtight container or plastic bag. The towel will absorb moisture that causes rot.
Make your own broth. Finished eating the roasted chicken or turkey? Boil the carcass for an hour, strain the liquid into freezable containers, and you have high-quality stock to use for future recipes, at a fraction of the cost of purchasing canned stock. You'll also enjoy some additional chicken or turkey meat that falls off the bone when you do this…great to use in casseroles or soups.
Buy tubed herbs, garlic, ginger, and lemongrass, like those available from Gourmet Garden. A $3.99 tube lasts for up to three months, and you don't end up with a bag of wilted, slimy herbs after a week or two.
Instead of throwing out leftover wine or champagne, freeze it into cubes to use for cooking. Wine is great for deglazing a pan of sautéed chicken or to use in soups or stews.
Buy tea bags, not bottled tea. If you like to drink iced tea, make your own. You can purchase large tea bags designed for making one gallon of tea, then refrigerate it.
Use kitchen ingredients for more than recipes. Combine a cup of sugar and some olive oil to make an instant and effective body and foot exfoliant. Whisk two egg whites and apply as a facial mask for 20 minutes to tighten saggy skin, or mash a ripe avocado and apply to soothe dry skin.
Place cooled tea bags on puffy red eyes to deflate and refresh. The combo of caffeine and tannin will do their magic.
High-end cosmetic companies also make affordable brands, so you can save money without sacrificing quality. Instead of buying Giorgio Armani, try Essie or Maybelline. All three brands are made by L'Oréal Paris. Procter & Gamble owns Gucci, Dolce & Gabbana, Olay and Covergirl. And the company that makes ultra-pricey La Prairie also sells Nivea and Eucerin.
Give chairs a redo. Reupholstering worn and drab dining room or kitchen chairs can cost well over $100 each. Give them a modern makeover for less than $50 total with cloth shower curtains. Just remove seats from chair frames, measure, cut and use a staple gun to attach cloth.
Barter your way to remodeling. Swap meets, where people trade decorative objects, building supplies and labor, are growing in popularity and can be an inexpensive way to redecorate and remodel your home. Try Swap Madness to search for meets in your area.
Transform your kitchen for a few hundred bucks by replacing the faucet, changing door handles and pulls, and painting or even removing cabinet doors.
Insulate your hot-water heater. Installing an "insulating jacket" is a simple DIY project. It only costs about $30 and usually results in a savings of $20 to $45 per year.
Test for a tight seal on your refrigerator by closing the door on a dollar bill; if you can easily pull the dollar out, the seal needs replacing.
Lower your energy costs. The federal Low Income Home Energy Assistance Program (LIHEAP) helps renters and homeowners get financial assistance and energy services to cut heating or cooling costs.
Reduce air-conditioning costs by as much as 10% by keeping AC condensers and window units shaded, perhaps by installing an overhead awning. Use ceiling fans instead of AC if the temperature is not too high. Although a ceiling fan does not change the temperature of a room, it can make the room feel as much as seven degrees cooler.
Clean or replace air conditioner filters once a month when in use. You can also buy permanent filters at home improvement stores that can easily be cleaned with a garden hose and reused.
Have a Gmail account with Google? Set up the calendar to send you reminders when bills are due. This will help you budget and could save you money on late payment fees.
Keep your dog's teeth clean. Buy Greenies or Milk-Bone Brushing Chews to remove plaque. Periodontal disease in pets can lead to more serious — and expensive — illnesses. If your dog needs a teeth cleaning, check to see if anyone in you area is offering non-anesthesia cleaning. Our vet just started offering this and it saved a lot of money and is also healthier for the dog.
Keep pets thin and save on medical and food bills. As with people, extra pounds can lead to joint problems, type 2 diabetes and cardiovascular disease in pets. A healthy diet (no table scraps!) and exercise routine will do your pooch good, and you can benefit from additional exercise, too!
Don't waste money on pet toys that won't last. Some toys can last a pet's lifetime, while other poorly-constructed toys may be destroyed within minutes. Check out toys by Kong or Orbee.
Rent, recycle or swap. Join the Freecycle Network in your town, where you can give away items in good condition or get something you need for free. Swap books at PaperbackSwap.  BookMooch uses a points system. Give books away and get points to spend on books you want.
Get free reads. Thousands of e-books can be downloaded for free to your Kindle, iPad, smartphone, or other devices through Project Gutenberg or, if you have a library card, via OverDrive.
Earn rewards for recycling.  Recyclebank pays you to recycle by giving you points or coupons that are good in local stores. Some communities have recycling centers that pay for bottles and cans. RecycleFinder locates recycling centers near you.
Cut your water bills by planting drought-tolerant shrubs, flowers, and grass. Check with a local county extension office or nursery to find out what native drought-resistant plants grow in your area.

Save money even when traveling last minute. Sign up for special-offer e-newsletters and emails from travel planning sites, airlines and credit card companies. Check out my blog for travel tips here.
Free apps — Google Voice, WhatsApp, Skype, FaceTime and Facebook Messenger — save you money on international calls and texts. And when abroad for long periods, ask your carrier to suspend your U.S. service.
Save time and money with TripIt. The free app organizes your travel plans and gives updates on flight changes.
Pick your flights carefully. The cheapest days to fly are Tuesdays, Wednesdays, and Saturdays. For example, a round-trip ticket from Boston to Las Vegas recently advertised a cost of $500 from Friday to Sunday, but only $228 from Saturday to Wednesday for the same travel route.
Airport food is expensive and is usually unhealthy, too. Don't leave home without a snack bag of roasted nuts, dried fruit, a small block of cheese, and a sturdy sandwich. Be sure you leave liquids behind, as they may not pass airport security restrictions.
When renting a car, choose a location near the airport for a lower rate. AutoSlash.com will track your reservation for you and apply deals and coupons. Before making a reservation, make sure they will be open if your flight arrives late at night.
Traveling to Europe?  Bank ATMs in airports are being replaced by Travelex machines, which give a poor exchange rate. Withdraw just enough for transportation to your hotel.
Plan a trip to Scandinavia. In Sweden and Norway, the dollar was recently up 25-29% against the Norwegian krone and Swedish krona, and hotel rates were down nearly 20%.
Take a free tour of the Big Apple — or more than 90 other cities worldwide. BigAppleGreeter.org, for instance, matches visitors with New Yorkers who give guided tours of New York City's neighborhoods. Sign up at least four weeks in advance. You can find similar programs in other cities by going to GlobalGreeterNetwork.info.
Enjoy a free vacation at an international organic farm. Through World Wide Opportunities on Organic Farms, you can travel abroad and spend four hours, five days a week, working on an organic farm in exchange for room and board. Afternoons evenings and weekends are free to explore the countryside.
Read your bills carefully. Eight out of ten medical bills contain errors, so check to be sure you're not being overcharged. And be sure to ask for an itemized bill. If you need help wading through the paperwork, call in a medical bill negotiator to review your bills for errors and overcharges.
Visit the drug company's website. If you're taking a brand-name drug regularly, check the drug-maker's website to see if it offers a coupon or discount card that can save you money. Ask your doctor if there is a generic equivalent that is less expensive.
Shop around for meds you take regularly. Area drug prices can vary widely. For example, a drug at a national chain was $249 and Costco charged $43 for the same prescription.
Find the lowest prices on prescription drugs. Plug in your prescriptions and city at GoodRx and the website reveals drug prices and discounts near you.
Check your drugs. Put all your medications into a bag and ask your primary care provider if you need them all. Many people are overprescribed, especially if they see several specialists for different medical issues. Having your list of meds reviewed annually by your primary care provider is important to your health.
Enroll in your employer's flexible spending account (Health Savings Account). It's like getting a 30% discount on health care and dependent care costs.
Max out your retirement plan. One-quarter of workers at companies offering 401(k) plans do not get the full match, missing out on an average of $1336 in free money annually.
Need surgery? Research cost-cutting alternatives to hospitals, such as outpatient facilities. The fees for a doctor and anesthesiologist may be similar, but typically, outpatient centers charge a fraction of the fee that hospitals charge.
Let your job send you to school. Around half of employers offer college education assistance, and you might not even need to be studying something directly linked to your work. Generally, you don't have to pay federal income tax on the first $5,250 of assistance.

If you are 50 years or older, check out the American Association of Community Colleges' Plus 50 Initiative. It's designed to help students 50-plus train for new jobs.
Sign up for a free or mostly free MOOC, or massive open online course, through portals such as Coursera, EdX and Lynda. Often offered by elite universities such as Duke and Stanford, MOOCs offer bargains on courses from their instructors.
Negotiate for a fast-track degree. If you've been in the workforce for a while, you may be able to reduce tuition by getting the college to waive some required courses because of your work and life experience.
Snap up an older-student grant, scholarship or fellowship. Some groups and foundations offer them, though it may take some sleuthing to track down. Start your search at FastWeb.com and FinAid.org.
Get free or discounted college tuition. Nearly 60% of U.S. colleges and universities let older students take classes either tuition-free or at rock-bottom prices. Inquire about specific residency, age and other requirements at schools in your area. You will not get credit, but it's a great way to expand your knowledge for free.
Track your miles. The business rate for 2017 is 5 cents per mile. Use sites like MapQuest to calculate the distance for even short business trips and get reimbursed by your employer, or take it as a tax deduction if you are a business owner.
Write off your travel expenses. If you have your own business (even if it is a side business) and you travel somewhere with the "intent to do business" while you are there and you have a business conversation with someone, you can write off your mileage or airfare as a business expense. You may also be able to write off your meals and hotel for each day that you have a business conversation. You must keep careful records about who you met with, when and where you met, and what you discussed. Check with your CPA for details.
Know what you're worth. Find out the typical pay for the job you seek, or before asking for a raise. Government salaries are posted on the Office of Personnel Management's website. Private-sector pay rates are found at PayScale and Salary.com.
Get one for free! When you find a really great deal on something that you know others would want, buy two and sell one on eBay for the price you paid for both. That makes yours free!
Don't pay for redundant virus protection. Check to see if your PC came preloaded with virus protection before you buy any software. Or try a free program such as Avast.
Skip extended warranties on most purchases. Major credit card networks provide extended-warranty coverage for many products at no extra charge. The only exception I make to this rule is when purchasing a laptop computer, which gets knocked around a lot on trips and has a higher risk of having something break or go bad. Be sure you read the fine print to understand what is and is not covered…before you purchase extended warranty coverage.
Pre-book your long-term parking at the airport and save money. Some airports allow you to pre-pay and save on the cost of on-site airport parking. Currently, my local airport costs about $30 a day, or $22 a day if pre-paid. I was able to pre-purchase 40 days of off-site airport parking for $9 a day, with no expiration date.
Find the best parking rates with a parking app. ParkWhiz, SpotHero, and ParkingPanda show you the rates at parking lots near your destination and then let you reserve a space.
Get massages at a massage school. Most massages cost at least $60 per hour. I get mine at a nearby massage school for only $30 for a one-hour massage. By the time the students see the public, they have been in school for months and have practiced on each other.
Get your hair cut, colored and permed at a beauty school. Although it will take longer than usual because the students must have their work checked multiple times by an instructor, you can get services for a fraction of the cost of going to a regular salon.
Attend spring training. See how your favorite baseball players work with their coaches for free! Check out SpringTrainingConnection.com for locations and schedules.
If your car is driven under 5,000 miles a year, ask your insurer for a low-mileage discount.
Get the "good student" discount on insurance. If your teen gets good grades, you may be eligible for a discount on car insurance.
Safe drivers can save money. Some insurance companies offer discounts if you prove that you drive safely by using a plug-in device for your car. For example, Nationwide offers a SmartRide discount of up to 40% off for safe drivers. Your driving trends will determine your discount based on 4 factors: miles driven, hard braking, fast acceleration and how much nighttime driving you do.
Buy reconditioned products. That means it has been returned to the factory, where it was inspected and refurbished to working order. Ignore small scuff marks, but be sure it comes with a warranty.
Ask for open-box items. You can negotiate a discount for many display models or unused products returned to a retailer.
Use rechargeable batteries. A battery charger and a couple of AA batteries that can be recharged hundreds of times will cost you about $40. Disposable AA batteries cost about $.050 each, so you could save up to $150 over time.
How to get the most benefit from this list:
Copy and paste the list above into a document. Delete the ideas that do not appeal to you and save the revised list. For example, if you don't care about buying designer clothing at a discount, delete those ideas from the list.
Print out your revised list and review it monthly, so you don't forget the money-saving ideas that appeal to you.
For ideas that are specific to time of year (example: coats on sale in January), or if you know when you will be shopping for something specific that has a money-saving idea on this list, make a note of the idea on your calendar so you won't forget about it when it's time to buy.
Please comment below about your favorite money-saving idea you learned about here, or share your own favorite money-saving tips below.
If you'd like some tips on retirement saving and investing, visit my blog, Are You Prepared, and search for the "Financial/Retirement Plan" section.
You may also want to check this out: What Does Your Money Blueprint Say About You?
Life Architect – Creating Blueprints for Purposeful & Productive Lives
Kathy@OrgCoach.net
www.OrgCoach.net
Follow me on Facebook
Recent Posts