How I Overcame a Deep Depression
I'll share a deeply personal story with you about something that happened 12 years ago that changed my life forever.
In 2005, our only child moved 1700 miles away from home to attend college. My husband and I became empty-nesters overnight, which was very hard for us. The same week our daughter left for college, my mother called to tell me that she was ready to confront my brother about his 25-year struggle with drug and alcohol addiction. I had been praying for years for this day to come, but I was not happy with the timing.
The intervention meeting did not go well, and my brother would not agree to go into the treatment program that had been pre-arranged for him. He left the meeting and met up with some drug dealers. On the way home, my mother had an accident and ended up in the emergency room. That same week, our homesick daughter was calling us from college each night in tears; my husband and I were having a hard time with the adjustment, too. With everything happening at once, I sank into a deep depression.
My good friend, Kate, knew I was having a tough time and she called to check on me. Before we ended the call, Kate asked if I would commit to doing something daily for the next seven days, and then report back to her about how I was doing.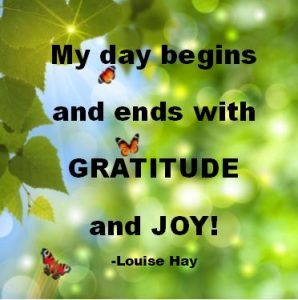 Kate asked me if I would begin each day by thinking of someone I was grateful for and send them a card of appreciation. She showed me a way that I could send a real paper greeting card in the mail by using an Internet-based program that made it easy, without ever having to leave my home to get them in the mail. Although I was not feeling very grateful at the time, I reluctantly committed to doing this daily gratitude ritual for the next seven days.
Each day I dragged myself out of bed and downstairs into my office, where I slumped into my chair and asked myself, "What am I grateful for?" Eventually I thought of someone, and I sent them a card to express my appreciation. Each day I felt a little better, and by the seventh day my depression had lifted. I discovered that expressing gratitude is a powerful anti-depressant! Twelve years later, this is still part of my morning routine.
Begin Your Day With Gratitude
What's possible in your life if you were to begin a daily habit of expressing gratitude? I'm not sure who benefits the most…the sender or the recipient!
If you'd like an easy and affordable way to reach out in kindness to others, I invite you to check out the system I've been using for the last 12 years. Let's connect and I'll set you up with a free sample account…just as my friend Kate did for me. I'll help you send a free card to someone who needs to hear from you. Please click here to schedule a time for us to connect by phone or Skype.
I am grateful for you, my readers, and the wonderful messages that you send me throughout the year to share how my blogs and online resources have impacted your life.  I wish you a blessed Thanksgiving!
I am also grateful that not long after the intervention meeting with my brother, he decided to enter a 9-month program to treat his drug and alcohol addiction. He has remained clean and sober since completing the program in 2006. For that our family is truly grateful.
You Have a Choice!
If your life isn't what you want it to be—whether that's due to a cluttered schedule, disorganized space, or disempowering thoughts that hold you back—then I want you to know you have a choice. You can choose to create new surroundings, a new mindset and a new life. When you realize that you have a choice, you give yourself the power to create change and to direct your life.
Are you ready to make the choice, right now?
Let me help you. Let's schedule a no-cost, no-pressure Discovery Call today!
What would a daily ritual of expressing gratitude do for you and those you care about? Please comment below.
Check out these additional resources:
Life Architect – Creating Blueprints for Purposeful & Productive Lives
Kathy@OrgCoach.net
www.OrgCoach.net
Follow me on Facebook
Recent Posts