Since this is Simplify Your Life Week, this seems to be a timely topic.
We have never been so productive, so busy and at the same time so distracted. Throughout history there have always been issues that have prevented us from doing what we set out to do. But it's never been as challenging as it is today. Technology has its benefits and rewards, and it also has its drawbacks.
The multitude of technology choices are both a blessing and a curse…a blessing because it is so much easier to stay connected, and a curse because the easy access can make us feel overwhelmed. Email, smartphones, mobile devices, laptops and other "screens" can get in the way of staying organized, even though the technology was originally created to make you more productive and organized.
Technology can actually cause you to feel pressure to do even more. No matter how amazing you are, you may start feeling inadequate that you cannot do everything all the time. Our modern technology can become a curse if we don't keep it all in perspective.
Take heart, though; you can learn how to wrangle the technology and make it work for you. You can become more organized even if it doesn't come naturally. You can give yourself permission to do things differently. You can create and honor boundaries. You can say "no" more often.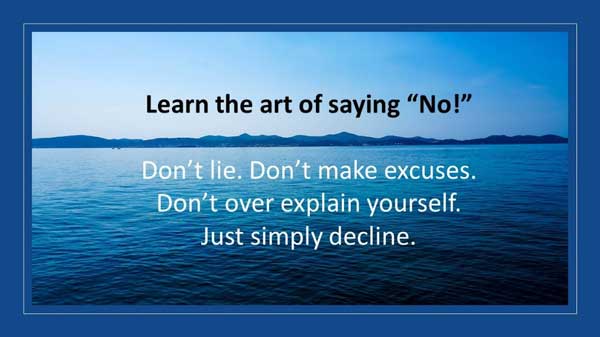 How do you determine what goes on your NOT to-do list? Here are some suggestions:
FIRST, get clear on the big picture. What is most important to you?
What do you want to do and who do you want to be during your lifetime?
What legacy do you want to leave behind? How will your life have made a difference on this Earth?
NEXT, get clear about what you choose to do with your time. What are YOUR key roles?
What do you choose to say YES to? What are you most passionate about? What are you best at doing?
What do you choose to say NO to? What are you not passionate about that you are currently involved in? Review your calendar and your regular activities, and ask yourself if what you give your time to is most important to you?
How can you best honor your own health and well-being (physical, mental, spiritual, social needs)?
Does your life feel balanced among all of your key roles? (Example: parent, spouse, friend, volunteer, professional, hobbyist, etc.)
I frequently tell my clients that organizing their time and environment without first clarifying their priorities is like rearranging deck chairs on the Titanic. Since more time will not solve the problem, the other alternative is to have less stuff you "gotta" do.

"It's easy to say 'no' when there's
a deeper 'yes' burning inside."
-Stephen Covey
NOW, lighten the load. Free up your time for what matters most by making a list of the following: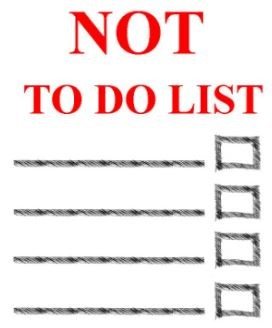 What commitments will you renegotiate that are not important or are less important to you?
What activities simply don't need to get done (things you choose to let go of)?
What are some things you might do or choose to defer for later?
What are some things that you don't enjoy doing or are not good at doing that you will delegate to someone else to handle whenever possible?  Click here for tips on delegation.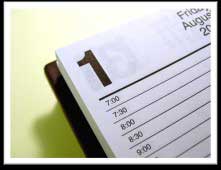 FINALLY, schedule time for the following:
What activities will honor your own health and well-being?
What activities are most important to you? Build in balance as you consider your key roles. Be aware of your self-talk. This is not about "have to" or "should." It's about what you choose.
Keep a weekly planning appointment with yourself. For one hour each week, focus on what you choose to say "yes" to so you can JUST SAY NO to the rest! Click here to review a powerful weekly planning process.
Schedule time for a weekly family meeting. Work, responsibilities, and over-committed schedules seem to be the biggest obstacle to spending quality family time. The Family Meeting provides an important opportunity for communication and planning as a family.
If you'd like more assistance managing your time and your life, check out my guide, Staying Organized in the Age of Distractions.
I hope you identified one or two things you choose to say no to as you read this article. What will you put into practice, starting today? Please comment below.
Life Architect – Creating Blueprints for Purposeful & Productive Lives
Kathy@OrgCoach.net
www.OrgCoach.net
Follow me on Facebook