Do you struggle with what to say in your messages?  This is the second blog in a three-part series that shares tips for writing effective messages that will help you to be remembered as someone who cares. Click here to read the first blog.
Don't Send Mixed Messages!
Here's a critical relationship-building tip: when you send a holiday or birthday card, do not mix a "wishing you well" message with anything related to marketing. Otherwise, the recipient will feel like you are simply marketing to them rather than sending a card because you care about them.
Here are two examples of cards I have received containing mixed messages:
Several years ago, I got a holiday card from a chiropractor. He put a beautiful message in the card that made me feel cared about. My entire mood changed when he added the P.S. at the end that said, "We love referrals!" He also included two business cards. The holiday card would have been much more meaningful if he had not said anything about referrals and had left his business cards out. Someone who feels cared about is much more likely to remember you for referrals than someone who feels like the only reason for connecting with you is to get more business.
I got a birthday card from a massage therapist I met at a networking event. She wrote a lovely message and then added, "Bring this card with you to your next massage and you'll receive a 20% discount…my birthday gift to you!" The birthday card would have been much more meaningful if she had not said anything about making an appointment with her. A true birthday gift would have had no purchase requirements in order for me to enjoy her gift. She turned the birthday card into a marketing piece.
There's nothing wrong with sending cards for marketing purposes. Just don't mix marketing with wishing someone well! The chiropractor could have sent me the holiday card with his wonderful message, and then in a separate mailing, he could have mentioned how much he appreciated referrals. The massage therapist could have sent me a birthday card, and then a separate piece of mail could have mentioned a discount if I booked an appointment with her by a specific date…or she could have offered me a free massage in her birthday card, which would have been a true gift with no strings attached.
Unfortunately, I was left with a poor impression of both professionals, and I am not likely to do business with either of them.
Here's a great question to ask yourself before you send a card: Am I giving to give or am I giving to get?
Provide Value by Offering Helpful Tips
If you are sending cards to prospective customers you want to build a relationship with, provide them with something of value that they'll want to keep–-great for top-of-mind awareness!
For example, if you received a card from a professional window cleaner, which kind of card would you be more likely to keep?
A postcard containing this message:  It's spring time and your windows are due for a cleaning. Give me a call and we can schedule a time for me to come out and make them sparkle.
OR a greeting card with this message…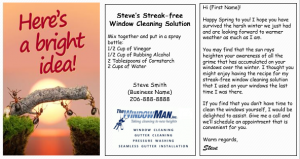 Happy Spring to you, Mary!
I hope you have survived the harsh winter we just had and are looking forward to warmer weather as much as I am.
You may find that the sun rays heighten your awareness of all the grime that has accumulated on your windows over the winter. I thought you might enjoy having this recipe for my streak-free window cleaning solution that I used on your windows the last time I was out there.
If you find that you don't have time to clean the windows yourself, I would be delighted to assist. Give me a call and we'll schedule an appointment for a time that's convenient for you.
Warm regards,
Steve
Those operating from a place of scarcity may be concerned about "giving away trade secrets" by sharing the window-cleaning solution recipe. Those who operate from a place of abundance will generously share the recipe and will be rewarded with even more business–customers who appreciate the recipe but don't want to clean the windows themselves.
Be Remembered as Someone Who Gives Back to Your Community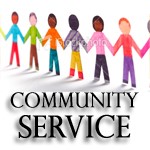 If you want to keep your name top-of-mind without hitting people over the head with your marketing offers, do something good for your local community and invite others to participate. A Real Estate agent friend of mine created a series of 12 postcards to send to 240 households in her area so they heard from her once a month.
Each month my Realtor friend did something for the community. Some months she asked people to call and let her know if they had something to donate, offering to pick it up from their front porch. Each postcard included her name and phone number. Her return address included the name of her Real Estate agency. Otherwise, no mention was made of her business.
The following year, her business skyrocketed with new clients and their referrals … all during a downturn in the housing market! People remembered her name because they received a postcard from her each month, and they wanted to support the great projects she was supporting in their community.
Here are some examples of what was on the postcards:
February Food Drive for the local homeless shelter: Please leave non-perishable foods on your front porch on Saturday, February xx.  I will stop by and pick them up to donate to the xxx Homeless Shelter."
June Ice Cream Charity Event:  Bring canned goods to donate to the local food bank at [name of ice cream shop] on [date] and receive a free ice cream cone. NOTE: In this case, the Realtor paid for the postcard to advertise this, and the ice cream shop owner collected the donations and gave away a free treat.  This is called co-marketing.
August Back-to-School Supplies Drive: Please leave new school supplies on your front porch on Saturday, August [date].  A list of needed items can be found at [charity website address]. I will stop by and pick them up to donate to [name of charity] that serves under-served elementary school students in our public schools.
November Coat and Blanket Drive: Please leave new and gently-used clean coats and blankets on your front porch on Saturday, November [date].  I will stop by and pick them up to donate to the [name of homeless shelter].
December Toys for Tots Drive: Please leave unwrapped new toys in their original packaging for boys and girls age 4-16 on your front porch on Saturday, December [date].  I will stop by and pick them up to donate to the United Way Toys for Tots program for military families.
I've found an app that enables me to add photos to a real paper greeting card. If you'd like to learn more about what I've been using since 2005, visit ExpressGratitude.info.
Did you like this article, Be Remembered? Click to read the first blog in this series. What's one thing you could start doing now that would make a difference in your business growth? Please comment below.
Life Architect – Creating Blueprints for Purposeful & Productive Lives
Kathy@OrgCoach.net
www.OrgCoach.net
Follow me on Facebook