"Your time is limited, so don't waste it living someone else's life…Don't let the noise of others' opinions drown out your own inner voice. And most important, have the courage to follow your heart and intuition. They somehow already know what you truly want to become. Everything else is secondary."       -Steve Jobs
As we celebrate Independence Day in the US, I am reminded of how blessed we are to have the freedom to choose our own life's work.
Years ago, before I started my own business, I remember how frustrated I was with several aspects of my life.  There were things about my work that I really disliked. As an employee, I did not have the freedom to choose my work hours, vacation days, amount of income I earned, or types of responsibilities I held. These were largely determined by someone else. But all of this was ultimately determined by me, because I chose to be employed in the position I held with the employer I worked for.
For 13 years, I chose to stay in a stressful career that I did not find fulfilling. But the more time I invested in that career path, the less at choice I felt. At one point, I took an exam to receive a special certification in my field. When I passed an exam, I felt like there was no turning back! I told myself, "I can't leave this field now…look how much I've invested to get here!"  And besides, I had no idea what else I could possibly do. I was blind to the many choices I had.
Then I was given the gift of unemployment.  That's right…my position was eliminated and I no longer had a job. At first, I was really upset. Then I realized what a huge gift this was. After all—if the truth be told–I did not find much joy and fulfillment in my work. I finally recognized that I had the freedom to choose my future career.
I was tired of complaining about not having enough time or money. I was tired of being an absentee mother for our daughter during times when she really needed me and my job took priority. I was tired of tolerating some of the people I worked with. When I examined my values–what is most important to me at the core–I recognized that I had the freedom to choose based on my own values, versus being influenced by the limiting beliefs, circumstances, and opinions of others.
The last day of my last job was the beginning of a long and wonderful journey. Somewhere along the way, I came to realize that life is full of so many choices. Most of the have to's are only present if we allow them to be.
If you are not happy and fulfilled by your current work or circumstances, this article was written for you. I invite you to evaluate your situation and proactively make some different choices. You do have the freedom to choose!
Take Responsibility for Yourself!
"Independent will is our capacity to act. It gives us the power to transcend our paradigms, to swim upstream, to rewrite our scripts, to act based on principle rather than reacting based on emotion or circumstance."  -Stephen Covey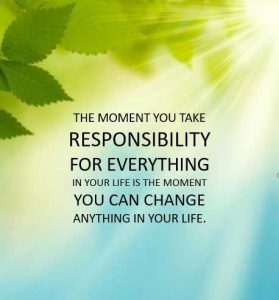 The limitations on our lives are mostly self-imposed.  Playing the victim only hurts you. Quit blaming others and take responsibility for your life, starting right now!
We have been given the ability to examine our conscious thoughts and choose how we react in any given situation. We learn at a very early age that if we act a certain way, we will achieve a certain result.
Often the result we opt for is safety. And safety is necessary to preserve our physical well-being. However, our desire to be "safe" sometimes paralyzes our ability to exercise our free will. From childhood on, most of us have been programmed to "play it safe," and this often affects the choices we make as adults. We tell ourselves, "That was so disappointing before, so I better not take that chance again."
Do you allow your fear of hurt, rejection, or failure to determine how much risk you are willing to take? What is the cost of doing this? Perhaps you're stuck in a job or career path you hate, or you are in a relationship that does not serve you, or you've chosen not to pursue a relationship you want.
Do you struggle with low self-esteem and self-confidence? If so, you are most likely sabotaging your ability to manifest what you want in your life by convincing yourself that you should not try, or that you do not deserve what you really want. Your choices are strongly influenced by disempowering emotions. By learning to recognize and step out of experiencing these emotions, a whole new world of possibility will be available to you.
You create the life you have by the choices you make.  Your choices are made based on what you think and what you feel. If you want something in your life to change, you must start by choosing different thoughts. As you think different, you will start to feel different, which will affect the choices you make and the actions you take.
When you follow your passion, walls will turn into open doors. Start with a dream that is personal and small. Then dream bigger dreams, and keep dreaming until you have one that seems impossible to achieve. As Josie Bissett once said, "Dreams come a size too big so that we can grow into them."
Think of your own gifts like seeds that you've been given. You can plant those seeds and cultivate them to harvest. In doing so, you will feed many people. Your seeds represent anything that can improve someone else's life–your time, talents, information, and resources.
What is the seed you are holding onto? What gifts, talents and passions do you have now that you can give away or release into the world? You have to plant the seed before you and others can reap the harvest.
Lyrics to a song I wrote in 2011 guide my life today. "Listen to Your Heart" is very much my message to friends, family, and clients – and is the core principle around which my work as a Life Architect is aligned.
Would you like support and encouragement as you identify ways to honor the freedom you have to make choices that are informed by your own values?  Let's schedule a no-cost discovery call by phone.
Did you enjoy my article, Freedom to Choose? What precious seeds have you been given that have not been planted yet? What's next for you?  Please comment below.
Life Architect – Creating Blueprints for Purposeful & Productive Lives
Kathy@OrgCoach.net
www.OrgCoach.net
Follow me on Facebook