The concept of taking a vacation has developed through the last two centuries. Historically, the idea of travel for recreation was a luxury that only wealthy people could afford. In the Puritan culture that was part of America's early formation, taking a break from work was frowned upon for reasons other than observing the Sabbath. Our ancestors worked six days a week!
The more modern concept of taking a vacation grew out of a religious movement that encouraged spiritual retreats and recreation.
Recent studies have shown that humans benefit from taking periodic breaks from our routine, whether for a few minutes or for an extended period. I think Mother Teresa understood this when she said, "To keep the lamp burning, we have to keep putting oil in it."  Taking time away from your routine activities is like re-stocking the oil in your lamp so your light can burn brightly for you and others to enjoy.
If you are not convinced of the value of taking a vacation, here are some articles to read:
Have you decided that you cannot afford to take a vacation? It may be more affordable than you think!
12 Tips to Save Money on Vacation & Travel: 
Be a house sitter.
TrustedHousesitters.com matches travelers with homeowners needing their pets and homes looked after while they are away.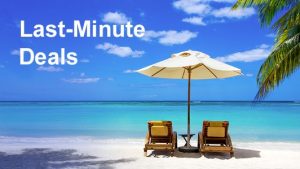 Find last-minute hotel deals.
The mobile app HotelTonight finds big discounts on hotels without having to book ahead of time. You'll need to be flexible to do this, but you can save a lot of money this way, as hotels offer deep last-minute discounts so they can fill vacant rooms. Also, check for last-minute deals at business hotels. Hotels in commerce cities offer deep discounts during their slow times. During summer and weekend stays you may be able to get a fancy room for one-third the normal cost.
Spend a day at a luxury hotel.
If you are planning a staycation, here's a way to pamper yourself for the day. More luxury and resort hotels offer "intra-day stays," which allow guests the use of a room and all the hotel's amenities—pool, restaurant, spa, sports center or private beach—for the day. Discounts can be as much as 70% off the price of an overnight stay. Find hotels at hotelsbyday.com and between9and5.com.
Choose a destination city based on its Restaurant Week.
Many cities offer Restaurant Week during their low season for tourism. For the whole week, participating restaurants offer special prices on their menu items. You'll eat at top restaurants at a fraction of the regular cost.
Update your documents.
Be sure your passport is valid for at least six months beyond your overseas travel dates. Otherwise you may be turned back by countries strictly enforcing entry requirements—which could significantly add to the cost of a trip. Pay attention to driver's license expiration dates, too. If you don't have a valid driver's license, you won't be able to get a rental car!
Get your rental car in town.
You might pay up to 25% more to pick up a car at the airport or train station instead of in the town center. If your hotel does not offer a free shuttle service, you'll need to consider the cost of getting into town and back to the airport if you rent your car in town.
Go without a rental car in urban centers.
Why pay rental and parking fees while touring a city on foot? Most larger cities have amazing public transportation, and a rental car is not needed. If you cannot walk or take public transportation to your destination, it may cost less to take a cab, Uber, or Lyft instead.
Travel with snacks and meal replacement bars.
It's cheaper than buying airport or airline food, plus you can enjoy healthier options over the limited menu selection available. Be mindful of the liquid restriction for carry-on items. Protein bars pack well. Options like sliced veggies, fruits and perishables will need to be consumed early.
Buy second-class train seats.
Throughout Europe and Japan, first-class train tickets cost about 50% more than second-class ones. The difference in comfort is usually minimal. The main other difference is that you have an assigned seat in first class, and you may not have that with a second-class ticket, which can make it harder to sit with other members of your group or family.
Get cash overseas at ATM machines.
On average, you pay 8% to get foreign cash from an ATM with your debit card. At currency exchange booths, you tend to lose around 15%. You may also have a debit card that does not charge you a foreign transaction fee. Check with your bank before you go.
Use local foreign currency to buy things.
You might be drawn to a store advertising "we accept dollars," but your purchase costs may be considerably higher when you pay that way. Also, some merchants are not set up to accept credit card payments, so cash may be required.
Use a Packing Checklist whenever you travel.
This checklist will remind you about things to pack so you don't have to purchase "forgotten" items at your destination. Click here to access a packing checklist I have created to help you get started.
Did you learn a helpful tip from my article, 12 Tips to Save Money on Vacation and Travel? If you have vacation and travel tips to share, please comment below.
Life Architect – Creating Blueprints for Purposeful & Productive Lives
Kathy@OrgCoach.net
www.OrgCoach.net
Follow me on Facebook